Sun Protection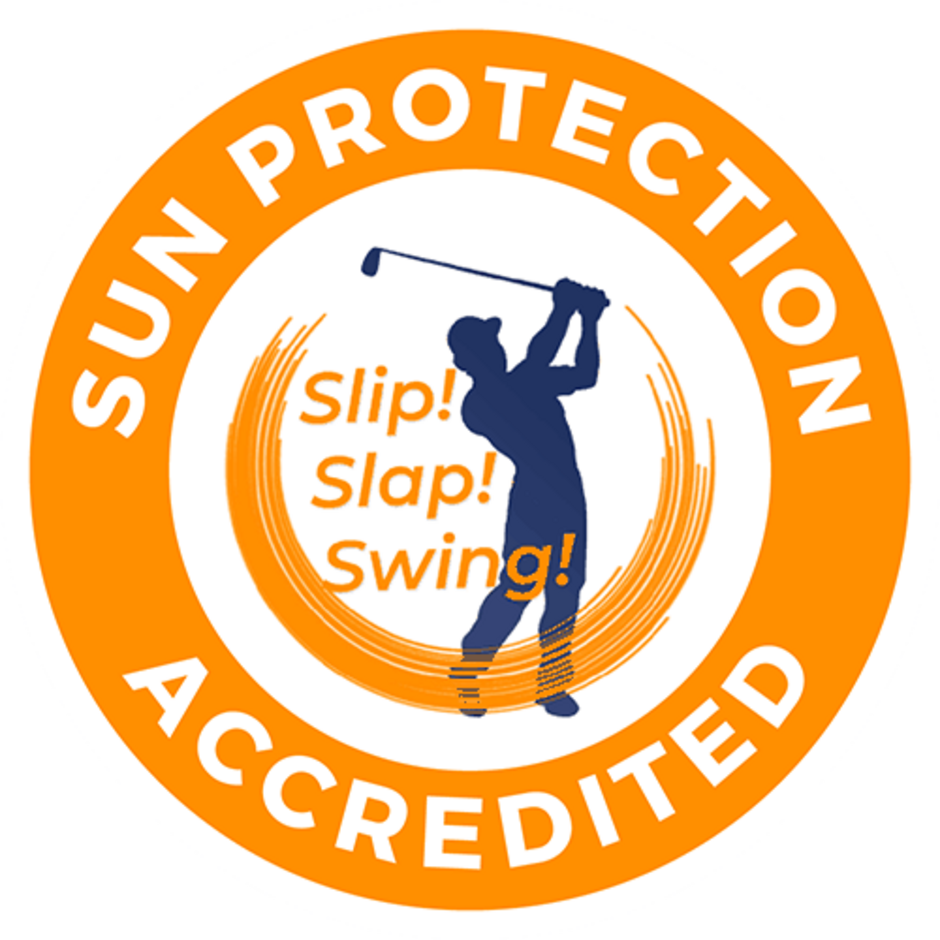 Hesketh Golf Club is proud to be recognised as a Sun Protection Accredited club, having signed up to the Slip! Slap! Swing! sun protection campaign for golf.
This summer, as part of our overall duty of care, we will be raising awareness of sun protection, offering advice on how to reduce the risk of skin cancer to all our members and staff.
The campaign, devised by the Melanoma Fund, is backed by 11 major golf organisations, requires clubs to undertake the following actions:
1. Nominate a Sun Pro Ambassador; promoting the campaign to members/staff
Our Secretary Manager Martin Edge has taken on the role
2. Add a sun protection statement to Terms & Conditions of play/Health & Safety policy
This page has been created
3. Display awareness posters and promote the campaign internally, and externally on socials
Our Twitter, Facebook and Instagram pages will be displaying information
4. Ensure sunscreen is available in the club
Scott our Club Professional will be stocking small sachets of sunscreen for purchase
5. Display the Sun Protection Accreditation logo
Will be displayed both digitally and in the club
We have joined a growing community of golf clubs who are taking the health of members seriously. Skin cancer is preventable, but is now at epidemic levels, so the question is if not, why not? If you wish to discuss this further, please speak to me our Sun Pro Ambassador or for professional information, please contact the Melanoma Fund direct.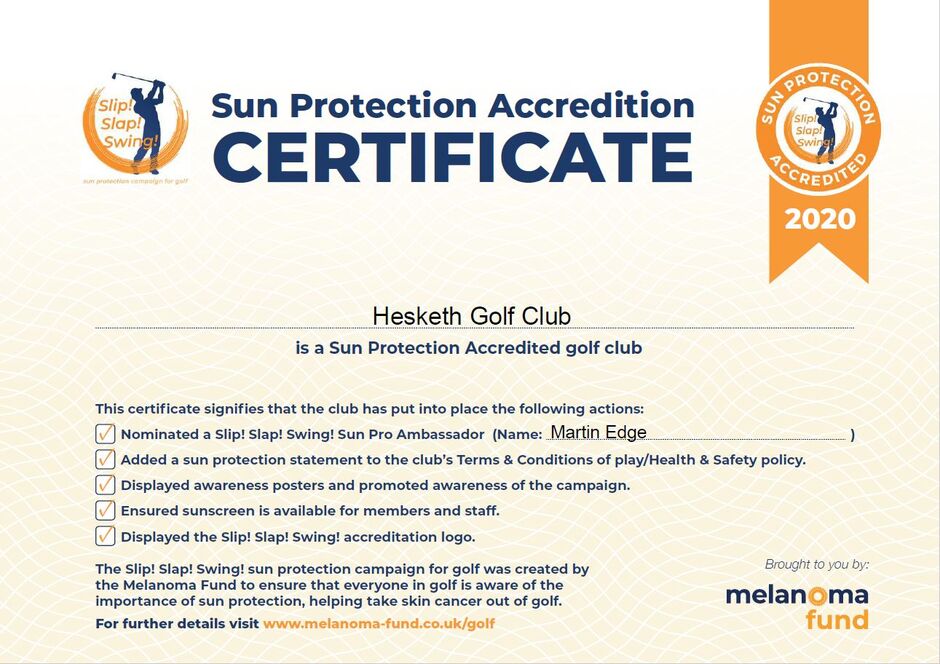 Our Sun Protection Statement
As a Sun Protection Accredited club, we have pledged to raise awareness of sun protection to our staff and members. Melanoma is one of the UK's fastest rising cancers, mainly affecting those who spend lots of time outdoors without sun protection. Incidence in women has more than doubled, and for men tripled in the last 30 years.
Between April to September you need to be aware of the risks of UV light and remember to follow these five rules when playing, working or spectating:
1. Keep sunscreen (SPF30+), sunglasses, a hat and large umbrella in your summer kit bag.
2. Apply sunscreen at least 20 minutes before teeing off to ensure it is effective.
3. Reapply sunscreen every two hours on sunny days, or around the 9th hole, using a sunscreen applicator to avoid a greasy grip!
4. Use a chubby sunblock stick to protect lips, nose and ears.
5. Check skin every month or so and if you spot any changes, visit your GP immediately.
For further tips and advice visit the Slip! Slap! Swing! campaign at: https://www.melanoma-fund.co.uk/slip-slap-swing/

Handy Tips
The Melanoma Fund provide 18 handy tips:
TIP 1
Choose a SPF30+ broad-spectrum, water resistant product that offers protection from UVB/UVA rays.

TIP 2
Remember – Up to 80% of UV rays may penetrate through clouds, so you can burn when it's overcast.

TIP 3
Perspiring can remove even 'once a day' sunscreen, leaving skin vulnerable.

TIP 4
Stay alert and safe by regularly hydrating with water.

TIP 5
Darker colours are more UV protective than lighter shades.

TIP 6
Apply the correct amount of sunscreen, which is a little more than you think!

TIP 7
Book in a late tee and you'll avoid the peak UV time of between 11-3.

TIP 8
Remember to sun protect your non-gloved hand to avoid age spots and keratosis.

TIP 9
If you are waiting around, if possible seek shade or push up an umbrella.

TIP 10
Use a sunscreen applicator to avoid a greasy grip whilst playing.

TIP 11
Protect your ears properly as this is prime site for skin cancers.

TIP 12
Watch out for sunburn on others and let them know!

TIP 13
Keep a light, damp towel with you to cool off and protect your neck, but remember to re-apply sunscreen afterwards

TIP 14
If you forget your sunscreen, ask others to share (they won't mind!). - Following Covid guidelines

TIP 15
Wraparound sunglasses provide more UV eye protection than a flat design.

TIP 16
A rainy morning can turn into a blistering afternoon, so arrive prepared.

TIP 17
A tan may look good, but it is a sign of DNA damage, increases the risk of skin cancer and promotes wrinkles, age spots and crusty patches, which don't!

TIP 18
Ask your club to keep a spare tube of sunscreen for players that have forgotten theirs.